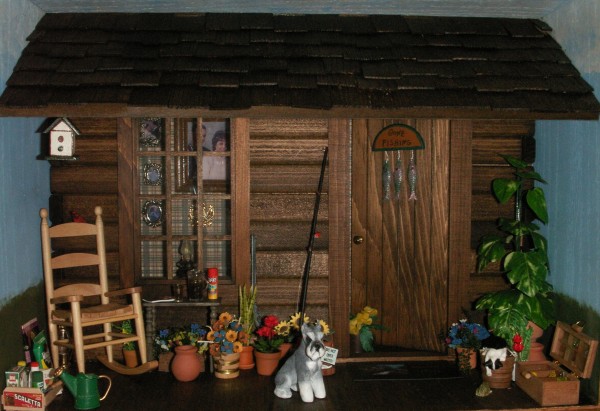 Marion's Cabin evolved when I realized I had yet to make a miniature scene for my mother-in-law Marion, who is the person solely responsible for my getting involved with the miniature hobby. Marion always said she wanted to retire to a log cabin, so Vince and I decided her 2006 Mother's Day gift was to make her a "retirement porch"! Sadly, Marion passed away in March 2010, but something tells me she's sitting in a rocking chair on the front porch of her log cabin with her dad by her side - about to head out to the lake where they can fish.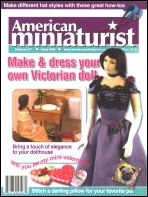 Marion's Cabin was featured in the
February 2007 issue of American Miniaturist

Main Front Porch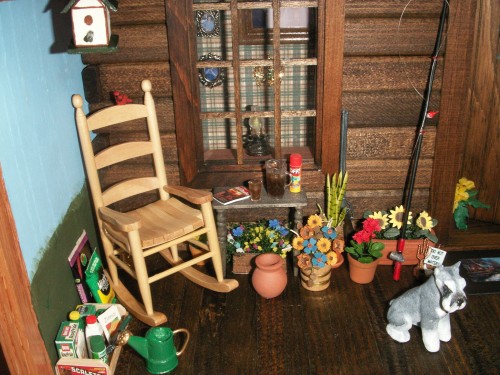 | | |
| --- | --- |
| | Gardening accessories for Marion's garden. |
A little cardinal friend has come to keep Marion's rocking chair warm!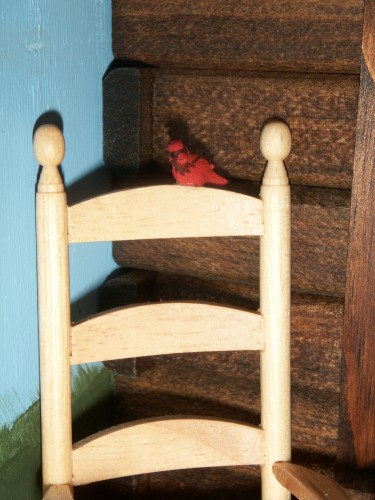 A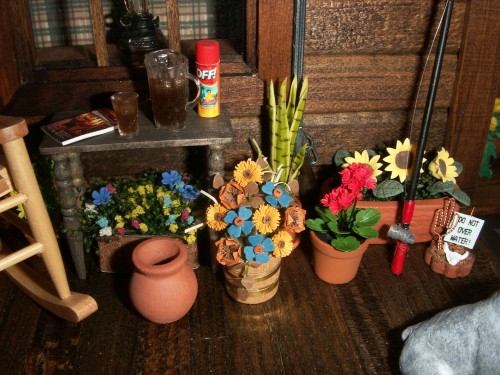 Flowers and plants. See the "Mother-in-Law's Tongue" plant? Yes, it's there on purpose!
| | |
| --- | --- |
| Marion enjoying a miniature magazine. Wonder who's miniature Christmas house is on the cover of that magazine? It looks vaguely familiar... | |
| | |
| --- | --- |
| | Some of the photos and decorations hanging in the inside hallway. The top photos is of Vince and me on our wedding day; the middle photo is Marion's brother George and the bottom photo is of her grandfather ("Deda"). To the right of Deda is a Serbian eagle. Inset shows the largest picture, one of Marion and her two boys, Pete and Vince. Below them is a photo of nephew George and his wife Theresa. |
| | |
| --- | --- |
| Smokey the schnauzer on the front porch, surrounded by more of Marion's loves: hunting and fishing gear! | |
| | |
| --- | --- |
| | Closer photo of Smokey. |
| | |
| --- | --- |
| Pictures of Marion's mother Sophie and father George. | |
| | |
| --- | --- |
| | Front door mat. |
| | |
| --- | --- |
| Look who's come to visit - Moonlight! | |
| | |
| --- | --- |
| | Moonlight has found herself a little friend... though if I were him, I'd run. Or jump. Quickly! ;) |